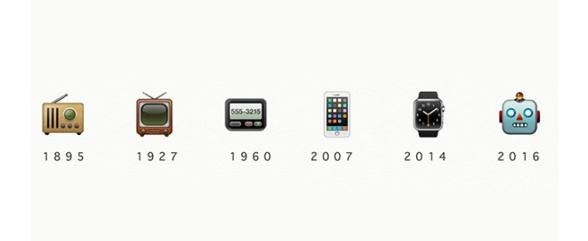 It's a familiar voice we all know far too well.
"If you know the extension of the person you would like to reach, you may dial it at any time. Press 0 to speak with a representative. For all other callers, please listen to the following options: for account information press 1, for questions about a product you purchased press 2, for…"
The experience is a nightmare. It's 2016 and messaging is evolving as the next platform for conversational commerce. Not only is texting useful and practical, it is also the most personal form of digital communication.
Right now, there are nearly 7 billion people with mobile phones in hand, totaling about 95.5% of the world's population. With an open rate of 98% for SMS messages, Silicon Valley investors are finding it hard to ignore the space. What once drew headline conversations for "cloud" or "cloud-based services" is now being replaced by buzzwords like "artificial intelligence" "messenger" and "chat bots."
So what does artificial intelligence mean for mobile messaging, and how can the technology benefit your business?
Silicon Valley Chatter
Within the mobile messaging ecosystem, chat bot technology is a fast growing arena. Chat bots are conversational agents programmed to simulate intelligent conversations with one or multiple people. Chat bots are helping users in remarkable ways by searching the web for information, answering questions, booking medical appointments, and even shopping for clothes.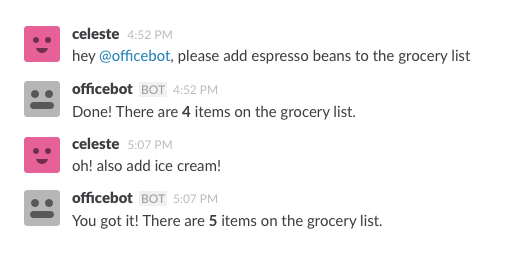 Some of Silicon Valley's most innovative companies are heads-down focused on the potential. Companies like Google are performing extensive research into artificial intelligence and bots within messaging apps. In June, researchers from Google announced that they had built a chat bot that learns how to talk with humans by analyzing dialogue from movies. Slack, a cloud-based team collaboration tool founded by Stewart Butterfield, recently announced an $80-million fund to invest in startups that build software that integrate with Slack. It also launched the Slack App Directory, a catalog of 150 chat bots and Slack integrations. Other messaging apps like Kik allow users to chat with up to 100 different bots. Of Kik's 240 million users, 16 million users have had at least one conversation with a bot.
Enter Two-Way Conversation
Bots that can identify what a customer wants and provide specific services are an important value proposition. While the technology develops, human-assisted conversation with context is necessary and preferred. Unlike the app ecosystem, where 50-80% of people stop using apps a few weeks after installing, chat bots will be much easier to build and deploy. Most chat bots are simple to install and even easier to use. They have an attractive graphical interface and provide a full, rich world to explore.
Sonar, a two-way communication platform for customers, is on a mission to unify some of the world's most popular mobile messaging interfaces, like SMS, Facebook Messenger, WeChat and Slack. Sonar is exploring the potential of chat bot integrations within these messaging channels so businesses can meet their customers where they want to talk. Not the other way around. As beautifully stated by our friend Chris Messina (You may know him as the guy who invented the hashtag):
"Users should be able to weave between their desktop and mobile apps without losing a beat, or context. Conversations should automatically organize themselves according to our work routines (think tasks), and the bots addressed on desktop should be available on mobile."
It's a no brainer that text is exponentially more efficient than a phone call. Human-assisted chat bot technology will improve the customer relationship experience even further.
Old Technology, Better Software
Computer programs that mimic human interactions have been around since the 1960's. ELIZA, a conversation bot built by Joseph Weizenbaum of MIT, was capable of asking users open-ended questions like, "How do you feel about that?" "Why do you think you did that? and "What do you think it means?. In this experiment, three out of five participants expressed interest in continuing conversations with Eliza and found relief in sharing their thoughts. Bots were later found at home on desktop messaging clients like AOL Instant Messenger, where users could ask for things like weather forecasts.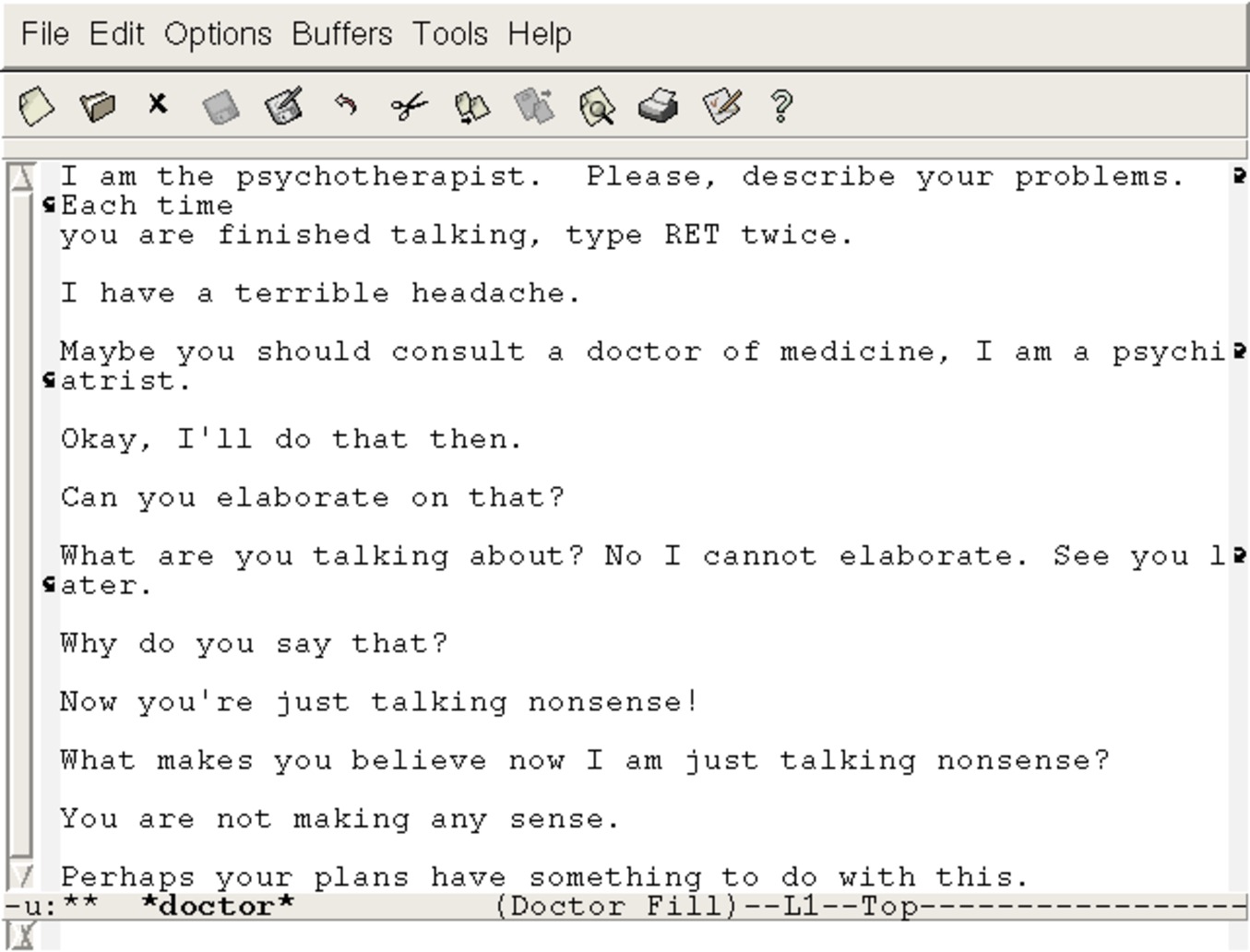 Chat bots have been undervalued as messaging transitioned away from desktops and over to mobile devices. But they are making a comeback in 2016 for two reasons: First, artificial intelligence software has gotten much better thanks to improvements in cloud computing and machine learning. Second, bots could be worth a lot of money. Companies from Facebook to Google are convinced it's worth the investment. For Google, having the resources to invest in AI is seen internally as a competitive advantage against startups building competing products. Messaging will evolve as the next platform for applications and services and will address new markets within gaming, transportation and commerce.
Learning from China
For perspective of our bot-dominated future, it's important to observe China, particularly platforms like WeChat and Xiaoice. While most chat bot activity happens through text messaging, other experiences look more like mobile websites within WeChat. A WeChat bot Xiaoice, built by Microsoft, that simulates a conversational character has already attracted millions of users through its conversational and clever nature. It's unclear if Americans, who have been slow to adopt buzzy initiatives like social commerce, are ready to embrace bots the same way that Chinese users have.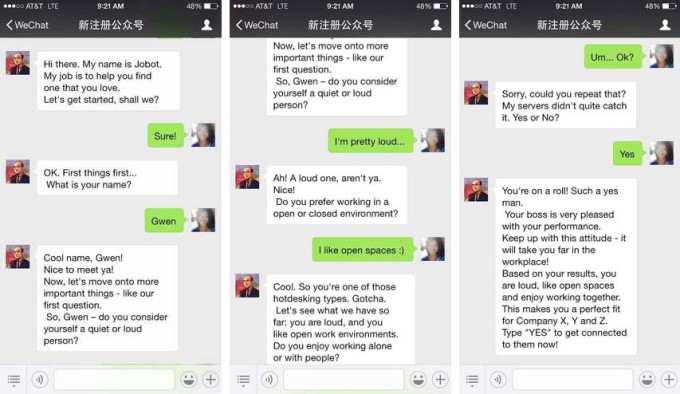 But it's only a Bot, after all.
Chat bot conversations often feel like a game of tennis. Talk, reply, talk, reply — each time going back and forth. Real people sense a pause, elaborate on their original statement and fish for more information. These elaborations are one of the easier tasks for a chat bot to do. However, they produce the danger of developing parallel conversations — conversations where one person replies to one statement and then replies to the next. Before you know, overlapping statements exist. This is tough for bots, so the elaboration has to be carefully done and stay on the same theme as the previous statement.
Chat bots can't express coherent ideas or manage coherent words. Since bots don't understand speech, they have a hard time holding consistency within conversations. As an example, if you ask a bot where it lives and it replies, "San Francisco," later in the conversation if you ask if it lives on an island it may say "yes" and contradict a previous statement. Through memory and machine learning, the aim is that one day the bot will be able to retain transcripts of previous conversations and apply them in contextual learning situations.
The Need for Human Connection
Truly autonomous bots aren't ready for the main stage yet. Like any technology, there's an upfront investment in research and discovery before people feel comfortable crossing the chasm to widespread adoption. Services like Magic and Facebook M, although diverse in their functionality, are currently powered by computers and humans both. Within the B2C space, it's vital that an actual human takes over helping customers in order to develop relationships of trust that are helpful, personal and immediate. Having a champion inside the company who can foster these types of relationships is the secret to winning and keeping customer loyalty.We've built a platform–Sonar–that is changing the way customers interact with brands and businesses. Businesses should be able to text their customers and vice versa. When you're ready to increase engagement and improve mobile communications for your organization, just text us at 510-270-4147.