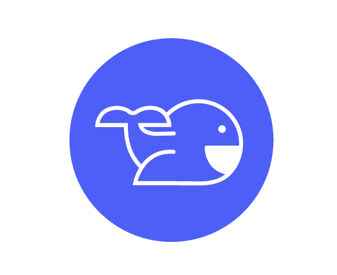 Redefine Your Customer Experience With Sonar
There's no denying we live in a mobile-first world. Within mobile, customers are demanding even more helpful interactions with their favorite businesses and brands. Customers are looking for higher-quality personal connection–nobody has the time for a slow string of Interactive Voice Response (IVR) phone calls. And it's no wonder. Over the last couple of years, we've seen the rise of the on-demand economy. One where we learned to request services like food delivery (DoorDash), borrowing other people's cars (Getaround) and even valet services from wherever you are (Luxe). At the tap of a button, each of these services are sending SMS confirmations to your mobile device, often through Twilio. Here's how it works:

With the help of personalized messaging, we are learning quickly that communicating with brands we love no longer has to be a one-way conversation. Companies like Mayvenn, Zulily, VistaPrint and Down to Lunch are actively supporting two-way text in an awesome way. Using messaging apps is the most effective and convenient way for customers to interact with brands and services they care about in an asynchronous manner. Short Messaging Service (SMS) currently has about four billion active users—that's more than three times the number of Facebook users—easily making it the most used application in the world. Consequently, messaging apps like WeChat and WhatsApp are worth billions.
The Need for a Personal Touch
Messaging, SMS in particular, has become a fundamental part of human communication and one of the most personal forms of digital communication. Personal enough, that seventy-one percent of people keep their phones close, so they can text their friends and family with both ease and frequency (Trends in Consumer Mobility, 2015). These interpersonal relationships between businesses and the consumer are dependent on trust. And trust is a vital part of successful interactions over mobile.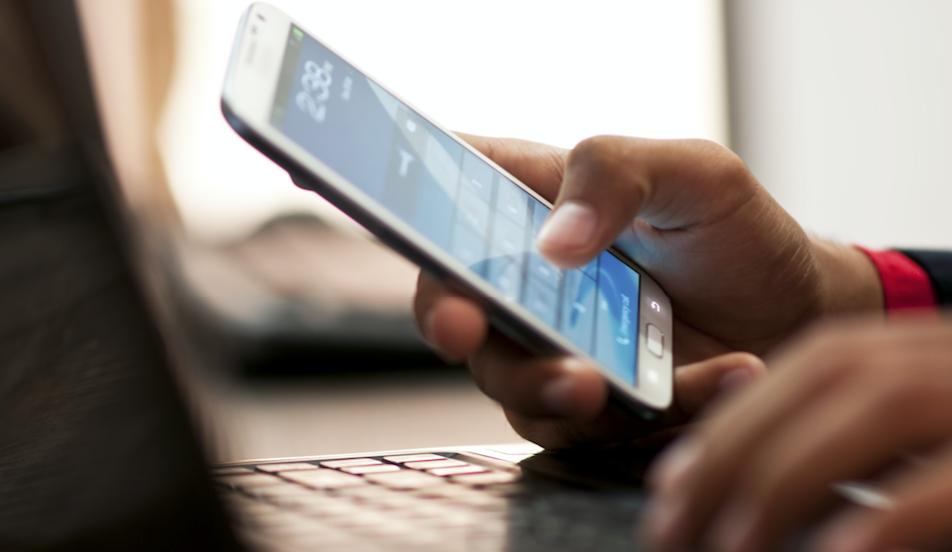 With consumer preferences leaning towards sending instant messages and texts over speaking to customer service representatives, it's a wise business decision to open these new channels for customers. Companies who understand this preference for text over voice also need to be aware of the personal nature these services actually offer. Understanding this attribute makes it possible to find the fine balance that comes with forging personal relationships between sales and marketing and the respective customers they serve.
Meet Sonar
Sonar is helping companies establish two-way, high-touch communication with customers on mobile messaging channels. These channels include SMS and Facebook Messenger, among others. We believe that customers should be able to reach a company on any channel, particularly the ones they prefer most, and get a fast, personal response.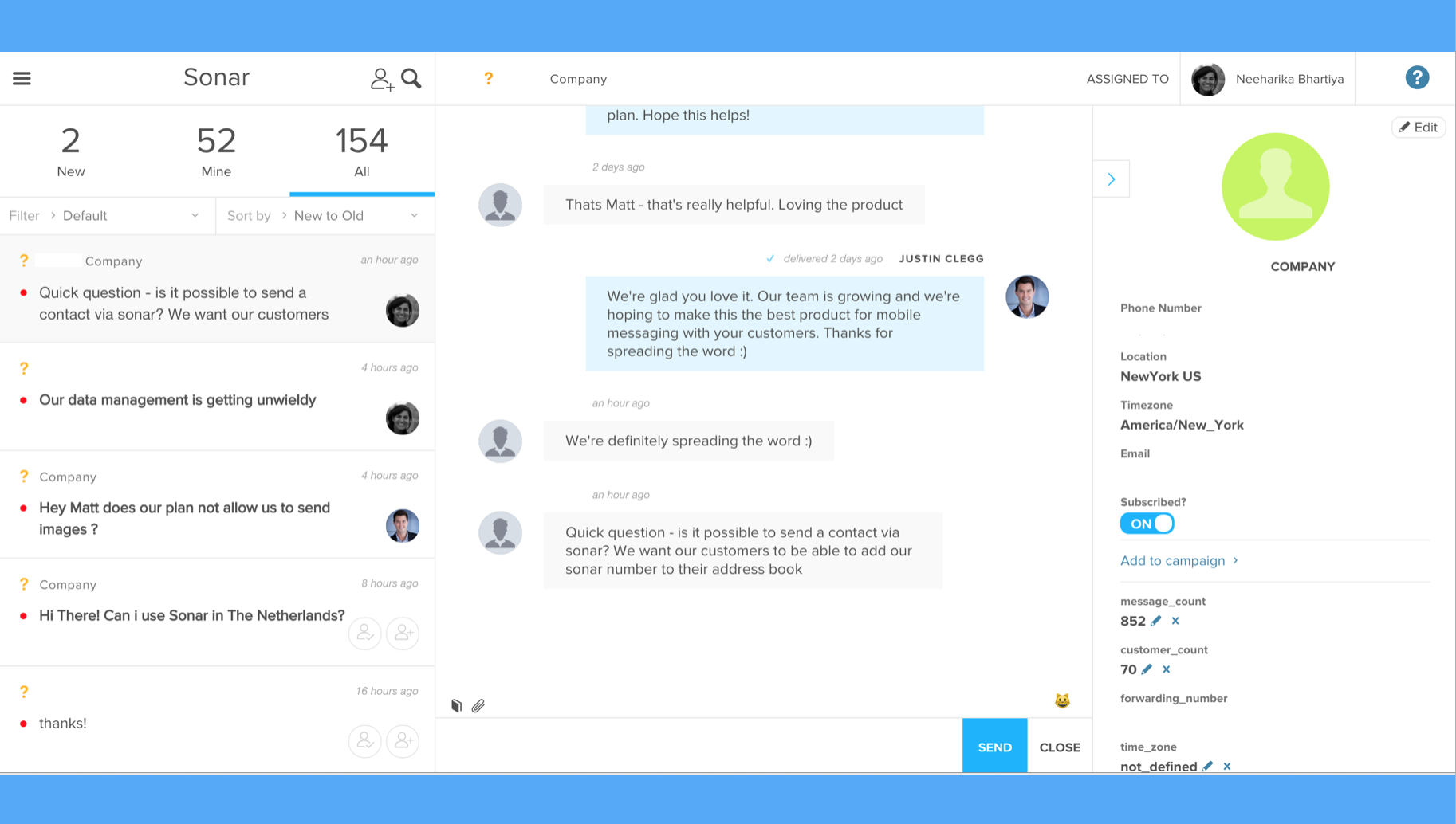 By engaging with customers in a real-time, two-way communication channel, businesses can create new revenue streams and engage customers by capitalizing on conversational commerce. Here's why. Customers are no longer interested in sacrificing the time it takes to download another app or learn a new user interface. However, they are interested in spending more time on making decisions and exploring a brand, something that helps boost revenue. So, a customer's experience needs to be streamlined and free of noise and friction.
With Sonar's latest feature, which gives companies the ability to create campaigns, messages can be crafted, filtered, and sent to multiple groups and demographics in a two-way conversation. Sonar also makes it possible for users to send canned or pre-written responses to a send list of candidates. Best of all, the platform is responsive and instant, giving businesses the opportunity to be easily accessible while decreasing the need to worry about fighting for screen space.
But Can't I Just Get My Own Twilio Number?
Not an uncommon question from many of our new customers. The answer is, "yes." However, what you don't know is there are a series of roadblocks in this process that can be extremely time consuming and drain your team's resources. We've solved many of the issues for messaging including handling blocked numbers and deliverability issues. Further, you can get started with Sonar without writing a single line of code. More on this next week.
What Now?
Global B2C e-commerce sales are projected to reach $2.3 trillion by 2017, and your business can earn a slice of that pie by promoting products and services through your new mobile channels that are a natural fit with your customers. Plus, 2016 is the consolidation of the mobile era, which suits e-commerce companies very well. It is predicted that by 2018, 50 percent of all consumers will be making transactions using their mobile devices (Gartner, 2015).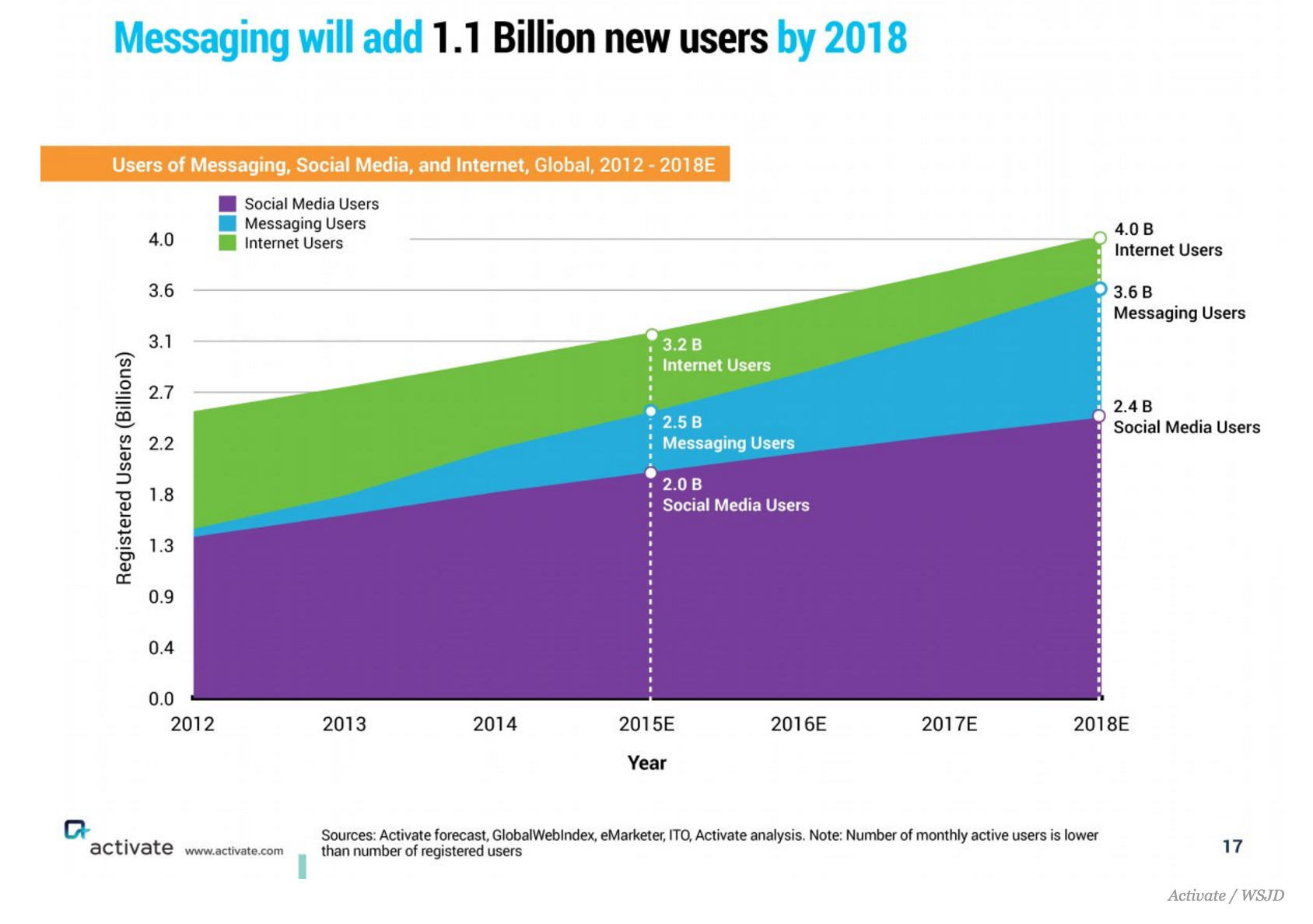 Connective and personal two-way communication between customers and businesses is the new way of doing things. Chris Messina recently shared, "you and I will be talking to brands and companies over Facebook Messenger, WhatsApp, Telegram, Slack, and elsewhere before year's end, and will find it normal" (Messina, 2016). Sonar is a unified mobile messaging platform that will provide the kind of space necessary for redefining the way customers talk to their businesses. It's a value proposition that users will want to reply YES to.