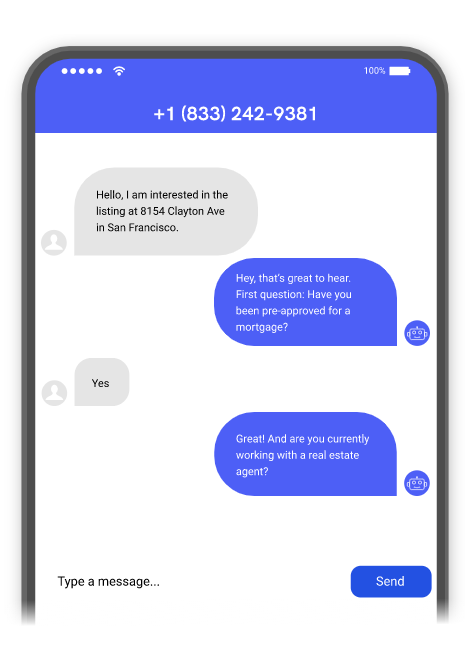 Over the past year, Sonar has co-created bots with our partners to help scale their mobile messaging efforts toward prospects & leads. Below, we highlight some of the interesting pieces of learning we found through building and releasing these communication bots.
Summary of Findings:
Using bots for a particular task shows great results

Bots help to scale teams more efficiently

Lead Conversion is an effective use case for bots and automation

You can iterate and teach bots for future customer encounters
Text Messaging, Bots, and Scaling Your Team
One bot in particular went from handling about 20 conversations per day one week to almost 500 conversations per day by the next week.
Like two peas in a pod, bots are a perfect match for scaling text messaging efforts within organizations. The main benefit is that when your customer messages in, they receive the best experience regardless of whether they are talking to a person or a machine. In fact, most customers will not be able to tell the difference! This is because we carefully craft the bots to each company's specific tone, and ensure the bot is personable throughout each interaction. Additionally, thoughtfully designed bots can scale your team quicker since there is no limit to the amount of conversation a bot can handle at any given time. This becomes apparent every time we release a bot into the wild. We even had one bot in particular that went from handling about 20 conversations per day one week to almost 500 conversations per day by the next week.
Sales Conversions are Fantastic
One partner saw conversion rates go from 8% via phone & email to 40% using text messaging.
As we release more bots with our customers, one major use case we find most effective is lead conversion or sale conversion conversations. An additional key learning when implementing bots is that when your mobile messaging strategy requires a clear purpose (like lead conversion, flash sales, customer upsells, etc.),end consumers are more likely to adopt mobile messaging when your strategy has a clear CTA. For example, one partner saw their conversion rate go from 8% via phone & email to 40% when they used text messaging at the top of their funnel. This was all done because they defined their mobile messaging strategy as a way to schedule meetings with a professional in that area. For the lead qualification use case, we have seen conversion rates as high as 68-70%.
Iterate Quickly
In the early days, a significant amount of training needed to take place before you could have a fully functioning bot. "Training" in this case is the process of analyzing a set of conversations in order to inform how the bot should reply in future conversations. Sonar's bots are connected to our in-house Machine Learning engine which incorporates Natural Language Processing (NLP) that allows it to continuously learn after each engagement. Over time, our customers have been able to fine-tune their bots to quickly and effectively convert more leads than through other standard communication channels.
If you want to learn more about Sonar or how we use bots to improve our customer's KPIs, send an email to contact@sendsonar.com or check out our chatbots page on our website!