Sonar's Salesforce Text Messaging Integration is one of the best ways to text your prospects or customers without ever having to leave the application. The set up is simple and easy. Enjoy the benefits of adding a mobile channel to your Salesforce instance.
Overview
This integration is an extension of Sonar placed conveniently within your contact pages in Salesforce. It simultaneously syncs your contact's number, conversation history, and properties directly into both Salesforce and Sonar. You get all the functionality of Sonar's text messaging platform and tagging capabilities right within your main sales tool.
How to Add
The implementation process is easy.
Simply add the Sonar Text Messaging Plug-in to your dashboard or any of your Salesforce contacts.

Click the phone number associated with a contact to populate chat history and various information archived from Sonar.

Work directly in your Salesforce CRM without needing to leave the program to communicate with your customers.

The Property Manager page allows you to select which pieces of data you want to send to Sonar from SFDC.
Benefits of Sonar's Salesforce Integration
Increased Efficiency

Quickly send texts to your prospects and customers from within your Salesforce dashboard or customer account page.

Targeted Messaging

Convenient Tracking

Two-way sync allows for the sharing and storage of data/activity in both Salesforce and in Sonar.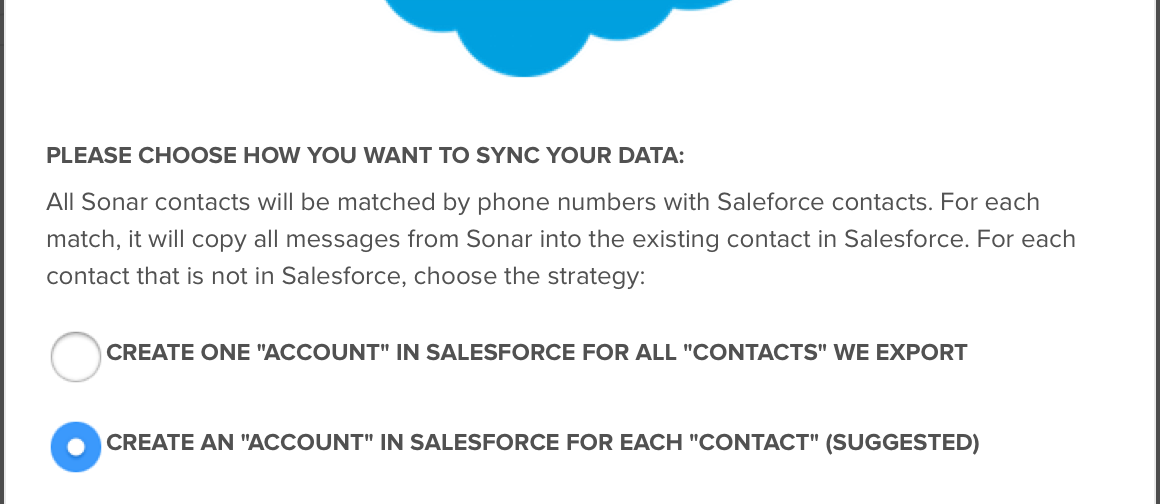 Visit our dedicated Salesforce pages to learn more: